A Wonderous New Technology
Web, Mobile and Desktop Rolled into One
Here's a geek riddle for you: what acts like a mobile app on a mobile device? Like a web app in a web browser? And like a desktop app on the desktop? What wonderous technology achieves this great trifecta? It's called a progressive web application, or PWA for short. Progressive web apps use common web technologies like HTML, CSS and JavaScript. But when married with some recent updates to web browsers, these languages act in concert and on steroids to produce effects that no standard web application can duplicate.
pro-gres-sive web app
/pɹəɡɹɛsɪv wɛb aplɪkeɪʃən/
noun : a wonderous new technology that people can use on desktops, web and mobile devices
Progressive web apps have all the benefits of traditional web apps, but they can work offline like a desktop app, and they can send push notifications and employ similar UI elements like a native mobile app. The appear and function like a desktop app when used on the desktop but look and feel like a mobile app when running on a mobile device. And no need to install it via digital distribution systems like the Apple App Store or Google Play. Web, mobile and desktop apps all in one codebase!
---
10 Reasons to Consider Progressive Web Apps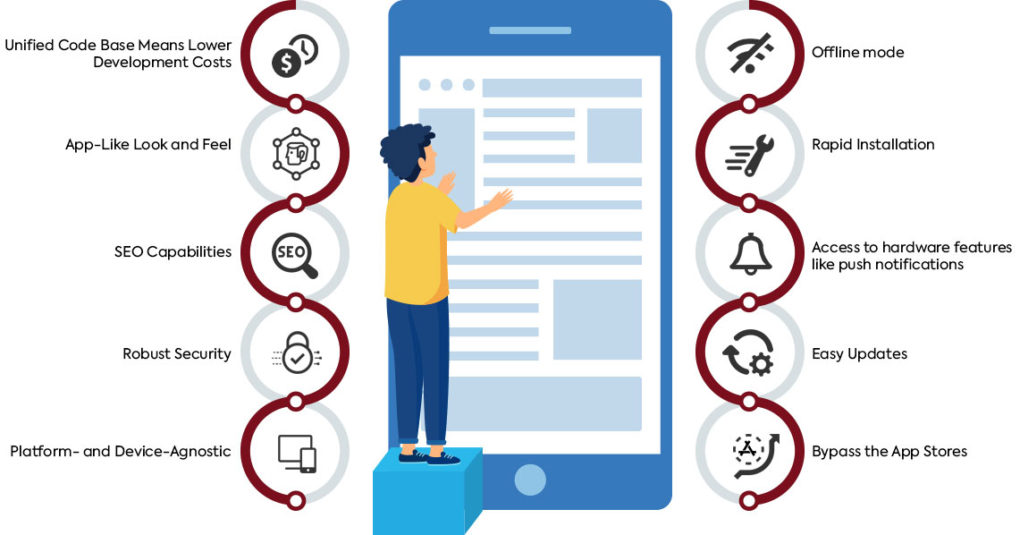 Progressive web applications are receiving an increasing amount of coverage not only in technical blogs but also in the mainstream business press. A recent article in Forbes recently predicted that "Progressive Web Apps will Replace Native Mobile Apps". What are the characteristics of PWAs that make them so exciting?
1
Unified Code Base Means Lower Development Costs
PWAs use a single codebase that works on all device. This significantly reduces the amount of resources required to achieve the broadest possible user base.
A traditional web app doesn't work without an internet connection. Not so with the PWA. Users can still browse a PW when they are not online. And data can be saved locally to then sync when connectivity is restored.
PWAs offer an advanced user experience that combines the look and feel of mobile applications and the best of website performance. For most application types, their design and functionality mirrors that of a native mobile app.
PWAs do not require a long and complex installation process like mobile or desktop apps. Users just download a minimal app footprint directly to their devices that they can then access via a desktop icon.
PWAs have the same speed, responsiveness and capabilities of websites. They are also indexable in the same way by search engines. This means crawlers like Google or Bing can find and index your PWA!
6
Access to hardware features like push notifications
PWAs can access specific hardware features like push notifications that traditional web apps cannot.
PWAs rely on HTTPS to provide enhanced data safety and minimize the risk of security failures. PWAs also take advantage of Bluetooth technology that includes additional security capabilities.
PWAs have functionality to allow them to automatically update. They update themselves every time they are used, hence eliminating the need to download batch changes and install them.
9
Platform- and Device-Agnostic
PWAs work everywhere on all devices. A single app can satisfy the needs of various users. They provide a uniform experience on differing platforms and enables cross-support as users switch between devices.
Users access a PWA via a URL. It's easy, very easy to share and no cost to you! No need to go through the App Store or Google Play and go through their onerous submission and approval process or pay their high commission fees.