Beautiful and Engaging Web Design
Custom Design. Fast Delivery. Permanent Support.
Every business needs a website. That much is a given. But the real question is: does your website distinguish you from others? KW Works creates websites to separate your business from the herd. A website to delight your customers with strong visual appeal, sophisticated functionality, and elegant ease of use. A website to grow your business.
re-spon-sive web-site
/ɹɪspɒnsɪv wɛbsaɪt/
noun : a website that people can view and enjoy on any device
We make getting a new website or refreshing an existing one easy. Our web design process is uncomplicated, cost-effective, and quick. We keep it simple, supportive, informative and flexible. From initial briefing to web design visual concepts through to web development and ongoing support and marketing. As a full-service agency we offer the complete spectrum of agency services enjoyed by enterprise firms for businesses of all sizes. Custom design, mobile-responsive, easy content management with on-page SEO included for a website that sets you apart!
---
Websites that Look and Act Great on Any Device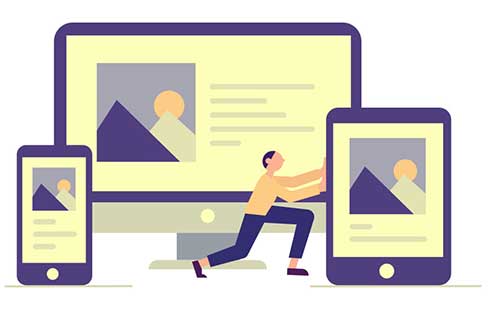 ---
Top Ten Website Features You'll Love
Your website design should be as unique as your business. Our in-house professional graphic designers will create a powerful, engaging, hand-crafted design for your site. Our process involves multiple revisions and extensive client feedback. This ensures a design that dramatically showcases your particular products and services and reinforces your brand. All of our work adheres to good design principles (clear, focused, visually appealing, strong visual hierarchy), the highest standards of web usability, and the latest UI design patterns and design trends.
Every project starts with a discovery period so that we understand your needs and your goals. We gather as much information as we can in this period about the details of your business, your brand, your products and services, your industry, your target customers and your competitors. Discovery helps us determine what features will have the biggest impact in satisfying your customers and driving your business goals.
A well-planned website structure improves your chances of impressing your customers and ranking well in search engine results. Your site's architecture – the way pages are linked together – is crucial to your chances of attracting relevant traffic and encouraging user interaction. We'll define the most appropriate and compelling structure for your website. Search engines will find your content more efficiently and your human visitors will be able to locate what they are looking for on your site more easily.
Desktops are great, but many of your customers may well use a smartphone or tablet to find your business on the web. It is important that your site displays and functions well on mobile devices. Responsive design is the process of coding a website so that it displays and functions equally well on phones, tablets, laptops and desktop computers. All of our websites are built using responsive design principles so that your customers can enjoy your site using any device able to access the Internet.
Content management systems (CMS) are designed to make it simple to publish your web content without a lot of technical knowledge. A website with a CMS is much easier to maintain and provides a better return on your investment by eliminating expensive monthly maintenance fees. Can you make changes to a webpage yourself? Add new pages once the site is up? Replace an image? Yes, you can! We offer several popular, open-source CMS frameworks (WordPress, Joomla, Drupal) to ensure the best match between your CMS and your site objectives.
All our websites offer multiple options for e-commerce. Great e-commerce websites successfully connect users with products with a system that is efficient, easy, and fun. We'll help you get there by identifying your primary sales funnels, showing your products, helping users find what they want, and then sealing the deal with a variety of payment and shopping cart options.
Getting a good ranking in search engines is critical for long-term online success. A solid on page optimization strategy is key to achieving this goal. All our website packages come complete with your initial SEO, including optimizations of title, meta tags, images and headers, internal and external link optimization, and keyword content density and synonym tracking. We will also configure your analytics and Webmaster Tools (WMT) to monitor your website's success and continuously make it better.
We are always ready to lend a helping hand – our assistance is only an email or call away. But KW Works is also a strong believer in empowering clients to take control of their websites themselves and become as self-sufficient as possible. We will teach you how to manage, update, and modify your website yourself with a variety of training venues – either on-site or skype training sessions, as well as an extensive training video library that we have developed to help clients master website management.
A great website requires a safe, dependable hosting environment to shine. That's why every website we create includes domain registration and site hosting for the first year. Annual hosting plans are available at reasonable rates after that. We take care of daily maintenance, data backups, software updates and security to minimize incidents, increase reliability and keep your site running at its best. We provide worry-free hosting so you can focus on more important aspects of your business.
A lot of work goes into creating and launching a great website, but what is equally important is post-launch support. Who do you contact if an issue should arise with any site that we have built? Or if you would like additional enhancements? Us! KW Works takes great pride in our outstanding, comprehensive support system that ensures that all service requests are handled quickly to keep your site current, functional and engaging.
---