Need Mobile App Developers for Your Next Project? Hire a Local Mobile App Company!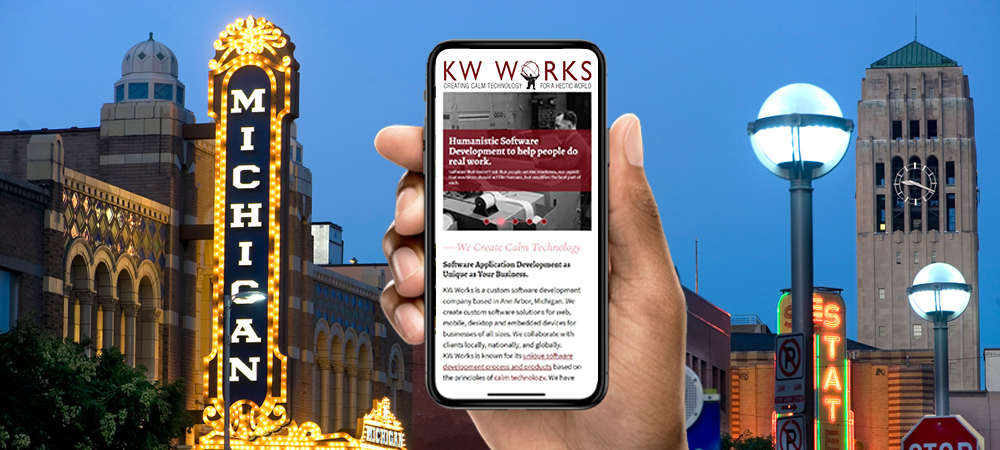 KW Works is a team of expert custom mobile app developers. We build for all platforms. Located in Ann Arbor, Michigan.

Mobile app developers for Apple iOS, Android, Hybrid, Cross-Platform, and Progressive Web Apps (PWAs).

Serving business of all sizes. Expertise in most industries, including healthcare, automotive & manufacturing.

Fast, affordable & local. We practice "hands-on" software development. Serving clients in Michigan, Ohio & Indiana.

All major Technologies and Platforms, including Java, Swift, Objective C, React Native, Ionic, Xamarin, Flutter & PhoneGap.

Collaborative development process, a tried and tested methodology that has worked for us for over a decade.

New software implementations & legacy projects. Augment an existing team or handle an entire project.
Let's Talk About Your Project!
Contact us to schedule a FREE, no-obligation chat about your project. Please complete all fields.
OR
Call Us to Talk Right Now
Average Project Cost Savings vs Competitors
Software Projects Completed
225
Years of Cumulative Development Experience
Software Designed for Actual Human Beings
We create custom software that helps organizations face a complex reality. Simplifying problems. Removing noise. Allowing people to focus on the things that matter most. We call this calm technology.
Calm technology is not an accident. It is the result of our unique humanistic software development process that emphasizes the real human beings using the technology. We are a "hands-on" software company that believes great technology requires a deep and genuine knowledge of the people using it and the situations and scenarios in which it is employed. We spend more time than most in getting to know the ins and outs of our clients' business. We will get to know you well, visit you in your offices, understand your workflows, your problems and pains, your goals and aspirations. Great technology can only arise out of a deep appreciation and knowledge of the human goals behind it. This conviction motivates everything that we do.